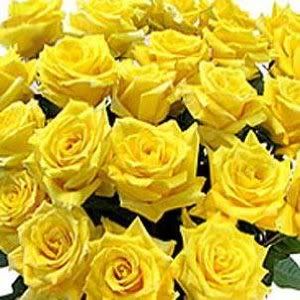 Happy Mother's Day
Mother's Day
, this year is Sunday, May 8th and always a great day to celebrate love, friendship and moms. Did you know that yellow roses indicate joy, gladness, friendship and "I Care?" I wanted to celebrate ahead of time with a beautiful bouquet of 2 dozen yellow roses and share a special recipe from mom. As a child my mother would often bake all sorts of foods, pies, desserts, cakes and cookies. One of my favorite, all time cookies is a famous Italian cookie called "Anginette" (aka Anginetti), in the USA popularly called "Lemon Drop Cookies." The great thing about this cookie is that it is popular all year round and with just a few ingredients, anyone can prepare and bake this great cookie in less than 30 minutes. I use to always enjoy rolling the dough into extra long cigar shapes and coiling the cookie into 2 and 3 tiers high. The sky is the limit in regards to creativity; although anginettes are delightful plain they are lovely and appetizing garnished with frosting and sprinkles. The prep time including rolling the dough into cigar shapes was slightly less than 15 minutes and it baked in 8 minutes. I try to bake these as much as I can. I once baked Anginettes and decided to bring in a tray for an early meeting where I was leading a direct marketing presentation to a group of about 30 people. The cookies were a big hit as was my presentation. Besides adding a personal touch, they were a surprise breakfast treat especially for those sipping coffee and tea.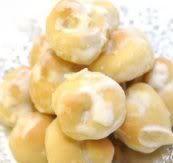 INGREDIENTS:
► Eggs 6
► Baking Powder 4 - 6 teaspoons max
► Baking Soda 1/2 teaspoon
► Flour 6 cups
► Vanilla 1 - 2 teaspoons
► Sugar 1 - 2 cups (can substitute with alteratives, e.g., splenda, equal, etc.)
► Butter 4 sticks (can substitute with vegetable oil)

OPTIONAL ICING:
► Powdered Sugar (aka Confectioners Sugar) 3 tablespoons
► Milk, Lemon Juice or Water (just a dash, about 1/2 teaspoon)

OPTIONAL OTHER:
► Lemon or Orange Skin (grated or peeled, optional with flour mix)
► Caraway seeds, almonds, walnuts, cream cheese, etc.
► Be Creative
Step 1 : Make Dough (5 min)
► Prepare oven at 375°; In large bowl combine ingredients
► Eggs
► Baking Powder
► Flour (put about half and add the remaining flour while mixing in bowl)
► Vanilla
► Sugar (or alternative, e.g., splenda, equal, etc.)
► Butter

Step 2 : Knead, Cut & Shape Dough (10 min)
► Knead dough when ready divide into amounts enough to roll into long cigars (about 6" to 8 inches); Then create circular coil shapes. Place in baking tray. Makes about 36 cookies or so depending on shape and size of cookies. You can make many more if you use a simple flat, round conventional shape cookie, but then again, it won't have the look and feel as a true, anginette.

Step 3 : Place tray in 375° oven (8 - 18 min)
► Depending on your oven, bake anywhere from 10to 20 minutes, keep watching and when the cookies are golden brown color on the bottom it is done. If you want to have frosting, mix the powdered sugar and water and stir until paste like. Wait at least 10 minutes for baked cookies to cool and dip cookies into frosting mix, or simply pour a little on each. Should set within 15 minutes. Can serve plain or with the traditional sugar frosting. Be creative, try cutting a few plain ones and adding cream cheese in the middle.
► Don't forget to wait at least 10 minutes before adding the icing and sprinkles or serving without icing.


Total time - 23 - 33 Minutes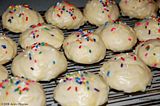 These cookies are great plain or with icing. There are different textures and styles. The neutral-colored frosting was made using lemon instead of milk with powdered sugar.
"The sweetest sounds to mortals given. Are heard in Mother, Home, and Heaven"
-- William Goldsmith Brown (1902-1982);
Survivor of the sinking of the RMS Titanic. Later he wrote a book about his experiences on the ship, and had his story featured in the documentary, Titanic: The Legend Lives On, as well as a children's book about the disaster, Inside the Titanic.