"A best friend is like a four leaf clover: hard to find and lucky to have!"
~~ Anonymous Irish Quote
Slàinte
(pronounced: slawncha, like "lawn-chair" but with an "s" in front of it, is how one would say Cheers in Irish Gaelic)
Happy Saint 278th Pat's Day!
Happy 278th St. Patrick's Day America! The first recorded parade anywhere in America was in Boston in 1737. In Ireland, the Irish have been celebrating the feast of St. Patrick since the ninth century.
This year it's Monday, March 17th! With many being bit by the leprechaun earlier in time for the many parades through the country beginning today. The oldest and largest of the St. Paddy's Day parades in the Western Hemisphere, dating back to 1762 -- New York City's St. Paddy's Day Parade -- steps off Fifth Avenue in New York City Saturday, March 16th fourteen years before the Declaration of Independence (NYC's oldest cultural and religious parade, 252 years ago but 253 St. Patrick's Day PARADE EVENTS AGO).
According to a PinkNews.com article, New York and Boston mayors plan to boycott St Patrick's Day parades in 2014 due to ban on gay marchers by the organizers. St. Patrick's Day is known traditionally as a religious holiday honoring the patron saint of Ireland, Saint Patrick as well as a celebration of the Irish culture.
Although not a legal holiday in America, Saint Patrick's Day, is celebrated throughout the country. It is observed as a celebration of Irish and Irish American culture. Celebrations include prominent displays of the color green, eating and drinking, religious observances, and numerous parades. The holiday has been celebrated on the North American continent since the 1763.
However, St. Patrick's Day itself has been celebrated in Montreal as far back as 1759 by Irish soldiers in the Montreal Garrison following the British conquest of New France.
Saint Patrick's Day
, in the center of our breakfast table you will find tasty, Irish, soda bread to celebrate the luck and charm of the Irish. I baked this easy Irish
soda bread
earlier today and just had to share my easy recipe by posting on my blogs. The great thing about this is the prep time was slightly less than 5 minutes and it baked in an hour.
INGREDIENTS:
► Flour 3 1/2 cups
► Sugar 3/4 to 1 cup (or try sugarfree alternatives; e.g., splenda or equal)
► Baking powder 1 tablespoon
► Eggs 2 medium size
► Milk 1 cup
► Melted butter - 1 stick
OPTIONAL:
► Raisins 1 cup
► Caraway seeds 2 tablespoons
► Be imaginative. I used Flax Seeds
Step 1 : Soda Bread Dough (3 min)
► Prepare oven at 375°; In large bowl combine dry ingredients
► Flour
► Sugar
► Baking Powder
► Optional ingredients - I added 1/2 teaspoon Flax seeds
► Add remaining ingredients - Milk, Eggs, Melted Butter

Step 2 : Knead Dough (2 min)
► Knead dough and divide the dough into 2 round loaves
► Sprinkle flour if dough is too moist and sticky
► Using a cake knife, mark the top of each dough loaf with an X

Step 3 : Place loaves in 375° oven (60 min)
► Wait at least 10 minutes before slicing

Total time - 1 Hour and 5 Minutes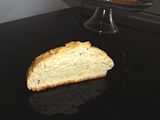 "Every man desires to live long, but no man wishes to be old."

--Jonathan Swift (1667-1745), Irish author and satirist.
Additional resources:
♦
Colorful History of St. Patrick's Day Parade, Roots of the parade in Colonial America
♦
The New York City Saint Patrick's Day Parade
♦
New York City Saint Patrick's Day 2014 Parade"
♦ Saint Patricks Day 2014 http://st-patricks-day.com/
♦
Find your nearest Saint Patrick's Day parade: Where and when
♦
New York and Boston mayors plan to boycott St Patrick's Day parades over ban on gay marchers
♦
New York City Saint Patrick's Day Parade
♦
Saint Patrick's Day Parade
NYCgo.com
♦
Saint Patrick's Day Parade New Orleans
All photos courtesy of Wikimedia unless otherwise mentioned. Photos of soda bread in recipe section, courtesy Gloria Buono-Daly.

Please visit this blog frequently and share with your social media and other networks.
Follow me @gbdaly

Thanks for visiting.
Gloria Buono-Daly